While we do not necessarily enjoy waking up early (most of us are night owls), we do genuinely enjoy catching a magical sunrise in the morning. In fact, we consider sunrises as new beginnings, a good way to breathe and forget about yesterday! Well, if you're one of those who'd prefer easy-to-reach places to catch sunrise, you're in luck! Bali is blessed with an array of stunning sunrise spots, from vast paddy fields to the endless ocean and rugged mountain views, where you can relish Mother Nature's amazing artwork without any hiking!
1. These sunrise viewpoints were made for Instagram! – Desa Sukawana, Kintamani
While we Love creating Insta-worthy shot from stunning viewpoints? Here's your chance to level up your IG game! At Desa Sukawana, the photospot here is unbeatable at sunrise hour when the glorious orange ball rises behind the mountain peak – can you hear the likes coming?
Desa Sukawana, Kintamani
Entrance fee: Rp. 10,000 (Approximately USD $0.70)
Address: Jln Pura Penulisan – Balingkang. Banjar Paketan Ds, Sukawana, Kintamani, Kabupaten Bangli, Bali 80652 (Coordinates here)
2. Have a double treat as you immerse in nature and culture! – Pura Ulun Danau Tamblingan
Start your day at Pura Ulun Danau Tamblingan to be blown away with mystical views of a traditional Balinese temple as the sun gently rises. With the temple being located on the shore of a magical lake, the best way to appreciate its view is by paddling around the lake to watch the sun rays pierce through the towering monuments.
Pura Ulun Danau Tamblingan
Boat rental: From Rp. 200,000 (Approximately USD $14)
Address: Jl. Danau Tamblingan, Munduk, Banjar, Kabupaten Buleleng, Bali 81152 (Coordinates here)
3. Relish on magical views of the fiery Mount Agung volcano! – Bukit Cinta Desa Gelumpang
Make the morning pilgrimage to watch the sunrise from Bukit Cinta Desa Gelumpang and enjoy killer views of the ever-erupting Mount Agung volcano! If you're in luck, you might even spot the volcano puffing out fumes as you relish from afar, guarded by the surrounding rice paddy fields. As a lesser-known spot, you'll enjoy intense peacefulness and stillness here.
Bukit Cinta Desa Gelumpang
Address: Abyandauh, Karangasem, Kec. Karangasem, Kabupaten Karangasem, Bali 80811 (Coordinates here)
4. Wake up to the mesmerizing sunrise view – Patal Kikian Villas Sidemen
What a time to be alive! Now you barely have to step out from the comfort of your hotel stay to relish on magical sunrise views! At Patal Kikian, you get to enjoy your daily dose of sunrise right at your doorstep! Secure the best seats at the edge of the infinity pool and indulge as the sun majestically appears behind Mount Agung, blessing the surrounding paddy fields and lush forest with its warm golden rays.
Patal Kikian Villas Sidemen
Rates: From USD $77 (Approximately Rp. 1,100,000)
Address: Banjar Kikian, Sidemen – Karangasem, Bali 80864
Contact: +62 81 3532 78504
Website
5.Dare to chase sunrise on the edge of a cliff? – Bukit Asah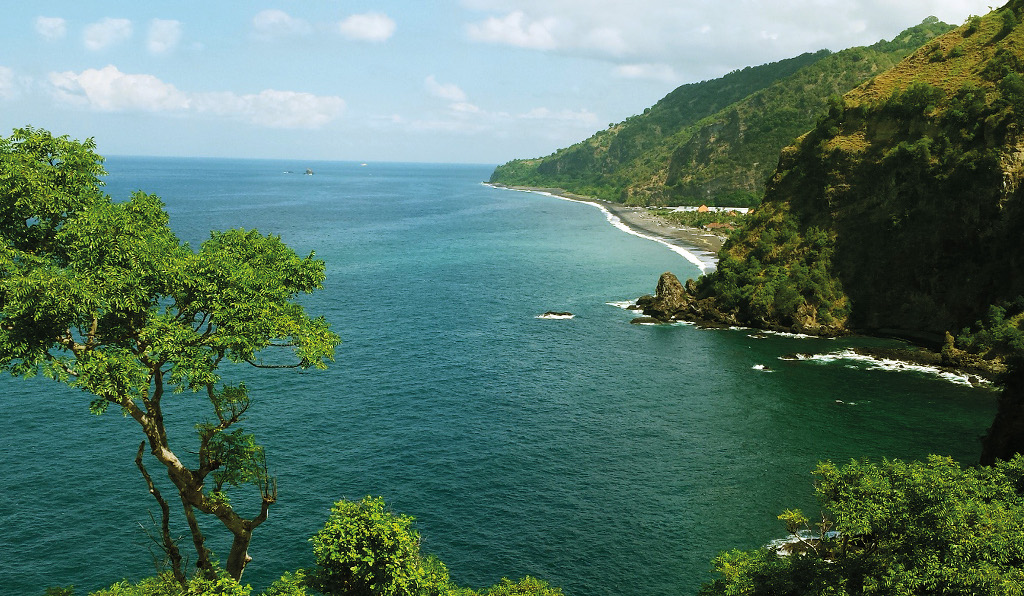 For the real daredevils out there, this one is for you! We know we've listed easy-to-reach places so far and this one isn't a challenge either but at least you get that adrenaline rush you've been waiting for as you're set atop a cliff! While you could come over right before the sun rises, we highly recommend you to opt for a camping experience here. Sleep under the stars and wake up to postcard-perfect views in the morning as waves crash against the cliff.
Bukit Asah
Entrance fee: Rp. 5,000 (Approximately $0.35); Tent rental from Rp. 300,000 (Approximately USD $21)
Address: Sengkidu, Manggis, Karangasem Regency, Bali (Coordinates here)
6. Take a romantic sunrise walk amidst lush greenery – Campuhan Ridge Walk
Holidays are rare moments in life when we can ditch alarm clocks in favour of having the sun shine on us… but trust us, the sunrise walk at Campuhan Ridge Walk will be worth the early morning alarm clock you nearly snoozed. This is a beautiful paved walk that is best enjoyed around 6 to 7am, right before the scorching hot sun rises fully. It's a short trek that can be enjoyed as a romantic date!
Entrance fee: Rp. 5,000 (Approximately $0.35); Tent rental from Rp. 300,000 (Approximately USD $21)

Campuhan Ridge Walk
Address: Kelusa, Payangan, Jl. Raya Campuan, Sayan, Kec. Ubud, Kabupaten Gianyar, Bali 80571 (Coordinates here)