Pura Luhur Lempuyang or also called; the "gates of heaven" are an iconic tourist hotspot located in East Bali. The temple is famous for its ' reflection' and the beautiful view. It is one of Bali's oldest and most highly regarded temples.
The whole complex is made up of seven different sanctuaries and offers visitors one of the most breathtaking views from any of the temples in Bali. Besides the panorama view of Mount Agung the beautiful forest around the temple is also spectacular to watch. To reach the main temple you have to climb more than 1500 steps.

It is recommended to go very early to avoid the crowd, so you can take more time to make pictures.
Another option is to go during the day so you are at the temple when the sunset will take place. It will be more crowded but the view is definitely worth it!
Maybe because of all the pictures you would expect a lake at the temple but this is fake. The reflection of the lake surface does not exist. It is an illusion created by photographers, who manage the effect by holding mirrors under the camera lens as they take their photo.
But either with or without the lake, the site is beautiful and the view from the gate is still gorgeous.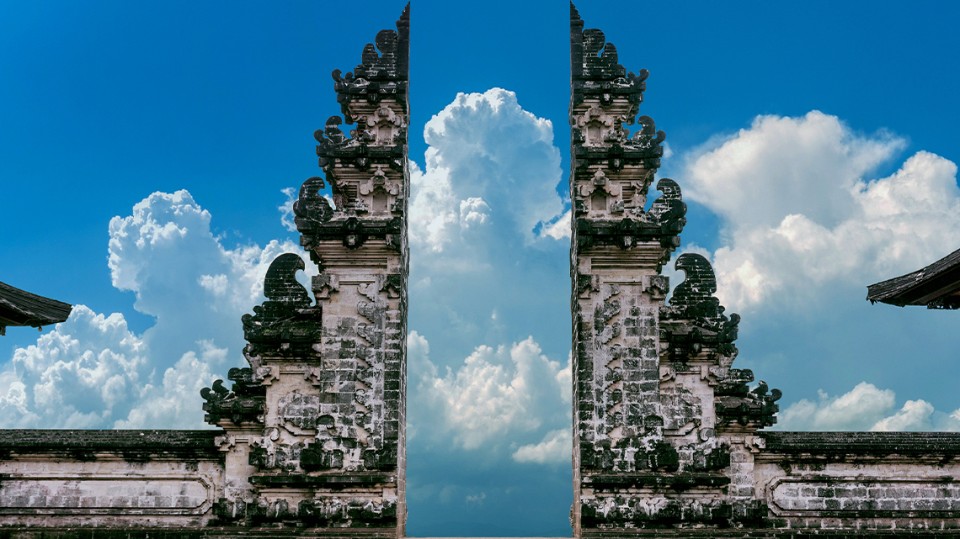 Things to know before visiting Pura Lempuyang temple:
– Wear a Sarong while visiting the temple complex and make sure bare knees and shoulders are not visible
– Don't kiss in public cause the Lempuyang Temple is a very religious Hindu temple
– Don't visit the temple when you are on your period